Letters from the Philippines
Hi everyone,

We had the concluding session of our mission trip to the Philippines today. We have experienced the presence of our Lord at every session. Today we were with pastors, deaconesses and workers in Quezon City with approximately 50 present - mostly women and a
Few men pastors. One 76 year old woman, Felisa, received Jesus in her heart for the first time. WOW!

The theme for the two pastor's conferences has been "Reigniting our Call Conference". Topics: reigniting our passion, our spiritual gifts, our prayer life.q

Retired bishop Sol Torquero came for the conference just before noon and stayed until it is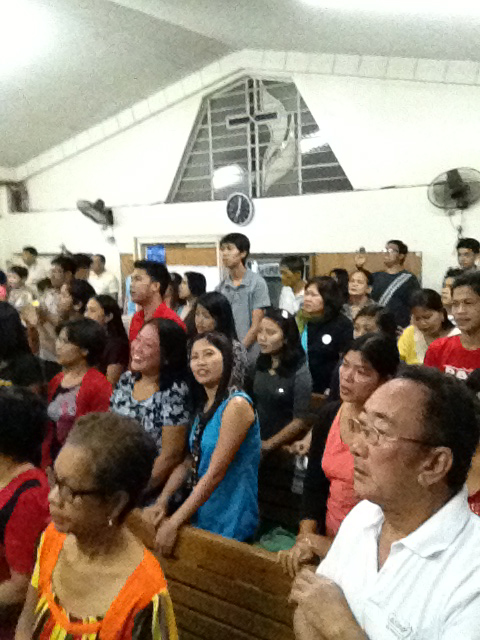 finished. Lots of picture taking. I will send a couple.

Last night we were in Pampanga at the Emmanuel UMC. It was packed out and the response was overwhelming. The team prayed for people for about an hour or more, then, as always, it was picture taking time.

We are all tired, but we have had a great time. We are going for dinner with the Philippine team - David and Josie, Pol Penetrantre, and Evie (Her last name has slipped me). They are a great and supportive team and we love them. They have spent the entire two weeks making this a special time for us, providing transportation and working in the sessions.

We leave the hotel tomorrow morning at 8:00 this time, 4:00 pm Saturday your time, arriving in Seattle at 5:30 pm.

Thanks to all of you for your prayer covering while we have been here. We are looking forward to being home and seeing all of you. Thanks to Peg and Brian for forwarding all of the updates to the Board and Council.

With much love,
Larry, Audrey, Donna and Bob

Sent from my iPad
---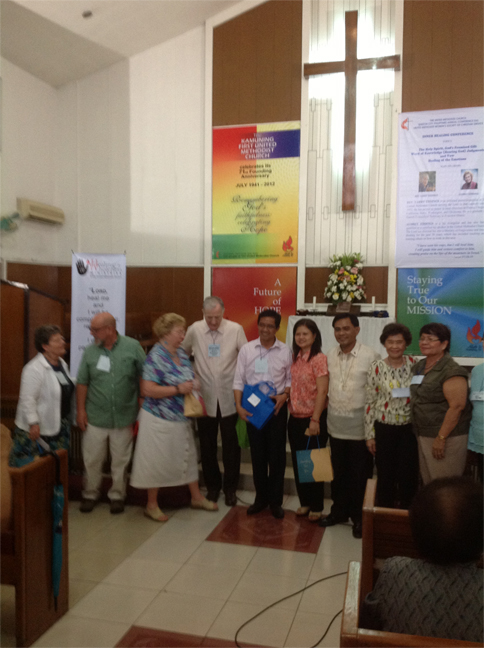 Hi everyone,

Well, I thought the mission was wrapped up by going out to a quiet dinner with David and group.

HOWEVER - we went back to the Puno church with that in mind, but were totally surprised by a size able number of church members who had prepared a banquet, to thank us for our ministry. We were totally overwhelmed by the expressions of their love. We'll have to tell you about it when we get home. I'll send a couple of pictures to give you an idea.

We are presently in Taipei, Taiwan, waiting for out a 10:30 (6:30 am, your time) flight to Seattle. We will arrive around 5:30 pm. Have a great time in worship today. We'll be somewhere over the ocean when you are worshipping. We will think about you - if I'm not asleep.

Larry

Sent from my iPad
---
Hello from the Philippines,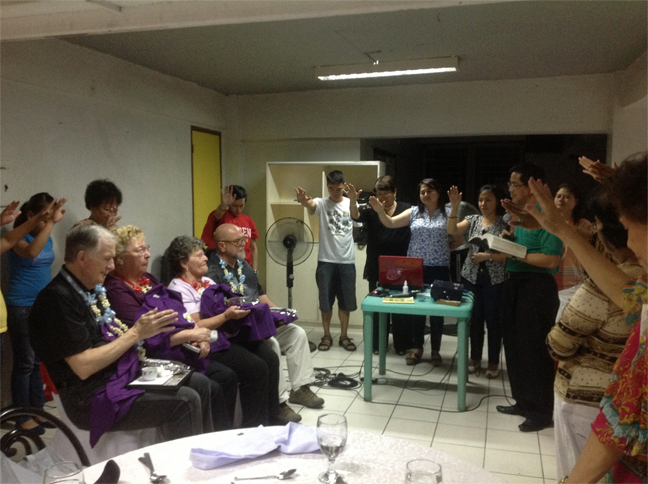 We have returned to Tagaytay from the mountainous country where we spent two nights and one day with the people of Belance. Mateo Manuel is pastor there. He is second from the left in blue jacket. The striped vests are gifts they gave us at the closing night service.

It took two full day's traveling going and coming (5:00 am-3:30 going), 6:00 am- 7:00 pm returning. Going, we took several opportunities to take wrong turns and see many beautiful scenes in the process. We did ask for directions on several occasions.

Coming Back, we stopped inTac Tac to have breakfast at Recardo and Agnes' home and church. We also stopped in town where Mateo's wife, Novelyn teaches in a K-6 school. There are 413 students with 12 teachers. Mateo rode with us to that point. She is away from their home throughout the week teaching. They are together on the weekend. We prayed for the school principle, Angelina Cleopas, and the school teachers and students while in her office.

While doing ministry In Belance There was a powerful move of the Holy Spirit and several received healing of various kinds. Many renewed their relationship with Jesus and everyone came to be filled with the Holy Spirit.

I taught on the first night about Jesus' healing of the paralytic, Tuesday morning, on how to
walk in the power of the Holy Spirit and on Tuesday night gave testimonial of how I had seen Jesus work healing in people's lives through the years, including my own. It was testimony and thanksgiving night. All the team, Bob,David, Pol and I gave our testimonies. Bob did a beautiful job when he sang his testimony. "There is a Redeemer." We all loved it.

There were about 100in attendance on Monday night, 50 or 60 during the day on Tuesday (many are farmers and had to be in their fields - mostly rice and vegetable crops), and again about 100 or so on Tuesday night.

On Tuesday afternoon Bob and Pol (3rd from left in picture) led workshop for the people on healing of relationships. At the same time David and I met with Mateo's church leadership to talk about their proposed starting of a Bible School. David had much wisdom in suggesting that they have, instead, a school for practical ministry, thus not being in competition with the denomination's seminary. Their school could include practical things like healing, how to share the Gospel,discipleship,etc. instead of Greek, Hebrew, etc., that can be gained in their seminaries. The council agreed and plan to follow the counsel that David and I gave them during that session.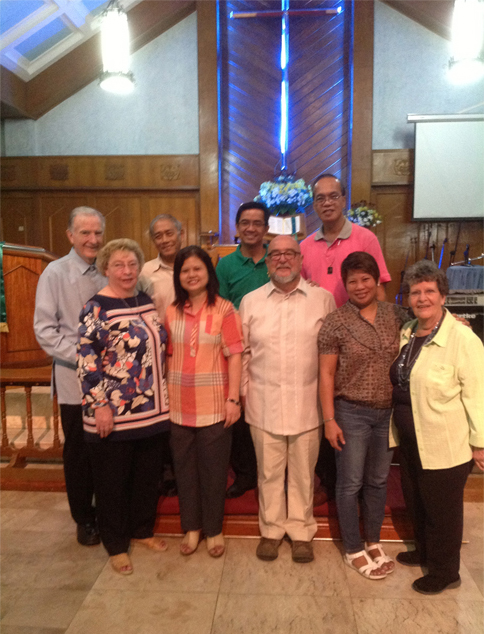 Many expressed a desire for us to return in the near future. My prayer is that God will allow that to happen.

Audrey and Donna had a good time of rest while Bob and I went to Belance. They are both doing well. We are glad they decided to not go on the Belance trip for it was a very long and hard ride. At the same time we are sorry they missed out on the joy of meeting the beautiful people there. It is good to be back with them and look forward to our next events in Quezon City.

Bob left this morning (Thursday ) to go fishing with a couple of the pastors we have known from previous trips to the Philippines. It is a beautiful day so they should have a great time. I have a picture of a real "whopper?" He caught while we were at Villa Escudero last week!!!!

Tomorrow morning we return to a hotel in Quezon City and then go to Pampanga for a healing service tomorrow night, and on Saturday to Puno UMC, David's church in Quezon City for full day conference with pastor's and church workers. Sunday noon we head for home.

I' m going to attach two or three more pictures, to separate emails.

For now,God bless all of you and thanks for keeping us in your prayers. God is answering them.

Love in Christ
Larry, Audrey, Donna, Bob
---
Hi everyone,
This has been one of those WOW! PRAISE THE LORD, DAYS!

We conducted the UMWSCS conference at the Kamuning UMC in Quezon City.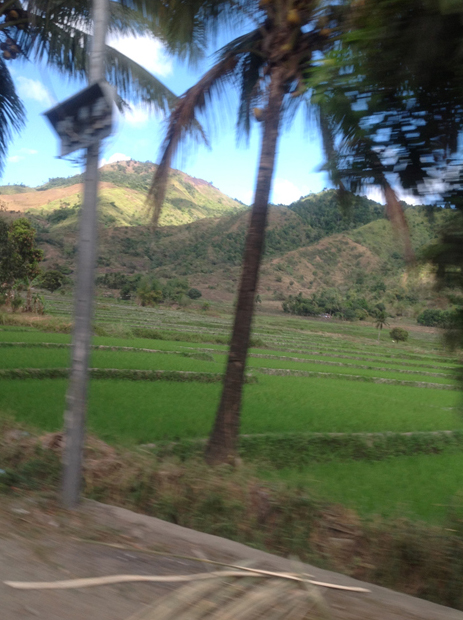 There were over 100 women and a few men present. The Lord showed up in power. Several women gave testimony of how their lives were impacted by His presence. The officers are excited about what will be happening in their work as they seek the The Lord's direction. The workshop on listening to God was one of the best ever. They are so hungry for the things of God.

We anointed those who desired to be baptized in the Holy Spirit. One lady gave testimony that The Lord healed her neck when she was being anointed. Several rested in the Spirit.

Yesterday, Friday we had time with Bishop Rudy Juan, a dynamic man of God. He desires to stay in touch, which we are glad to do. He was at the closing part of today's conference and had many kind things to say about our WOSM team and the ministry we are providing for the people in the conference he serves here in Manila.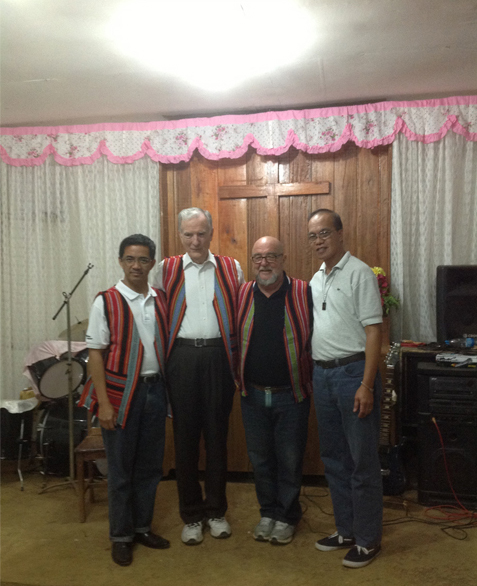 Bob had the opening prayer for the conference today, and Donna led in the opening devotions. Both did great. It is such a joy to work along with them here.

We will attend David's church tomorrow, where I will preach. Tomorrow afternoon we will return to Tagaytay.

Then Bob, David, Pol and I will leave on Monday AM for a day's journey to Bayombong to be with Mateo Manuel and his church for some meetings, returning on Wednesday.

Thanks for keeping us in prayer. All are healthy and doing great.

Love to all of you.
Larry, Audrey, Donna and Bob
---


Dear WOSM family,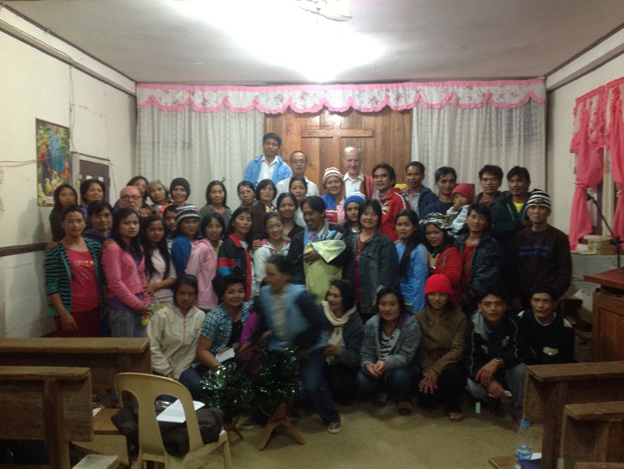 It is a joy to let you know what is happening. Yesterday we had a great day of relaxing at Villa Esquedero, a resort place about 2-21/2 hours away. It was a long, but refreshing day with David and Josie Sablan. What a wonderful couple!

Today we had breakfast at 7:00 and took about a 45 minute ride to the location of our first pastor's, workers and deaconesses conference, we had about 40 present from two districts. Both DSs were present. We have had both of them in healing academies before. It was good to meet many that we came to know in previous years and renew acquaintances.

Bob Cashmore is a real gift. He remembers people's names, churches, etc., and so we lean on him to fill us in on people details. He makes the rest of us look like we have great memories also.

Donna is a real gift and a great help in a variety of ways, especially in prayer and devotion support.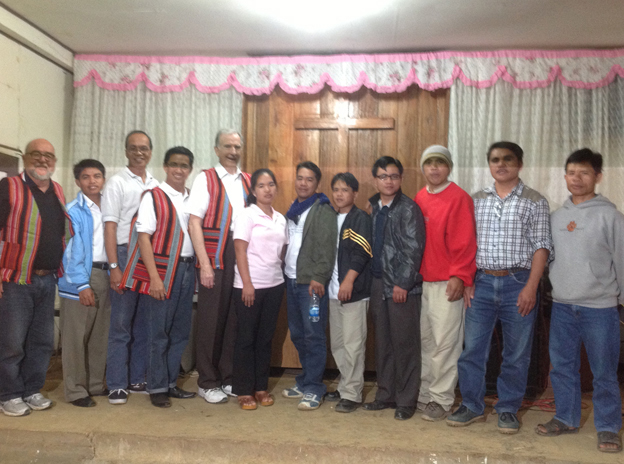 The pastor's conference went very well today. It was called "Reigniting the Call" conference. I spoke on reigniting our passion for Jesus and reigniting our spiritual gifts. Audrey spoke on ,reigniting our prayer life. We had workshops for each of the sessions and everyone participated. There was much affirmation, especially with the prayer workshop.

The team anointed everyone at the closing and a few rested in the Spirit with joy.

We will repeat this series at the pastor's conference on February 2.
Tomorrow we leave at 7:00 for a session with Bishop Juan, who presides over this area. We understand that he is very open to the Holy Spirit. His office is right in the middle of Manila, about a two hour drive from here. We will also be taking our clothes with us and check into a hotel as we will be in Manila through Sunday afternoon.

Saturday we will be with the Women's Society of Christian Service for an all day conference. Sunday I will preach at David's Church (English speaking service) where David is Associate on the staff. They have another pastor who is administrative or senior pastor.

All three of us are well. No major issues to deal with. The food here at the retreat center is fantastic with everything fresh and with no preservatives - a delight, especially for Audrey.

Thank you to all of you for keeping us in prayer as The Lord brings to your minds.

Love in Christ
Larry and Team
---
Hi everyone,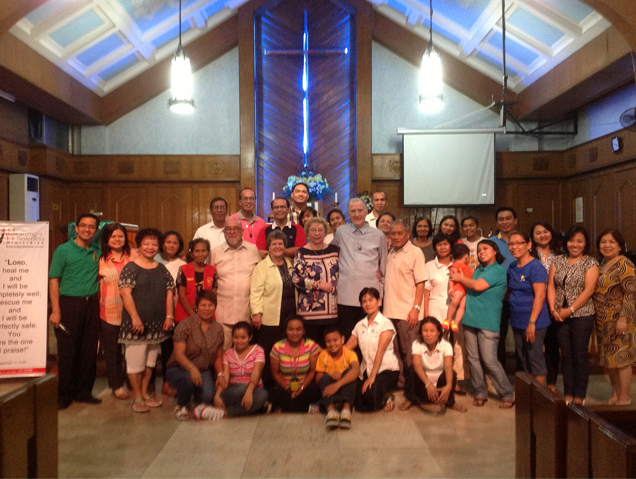 We are in a beautiful setting, bathed in sunshine and surrounded by loving and caring people.

We had our team meeting this morning sitting outside on a beautiful patio and experiencing our Lord's presence. We are looking forward to the days ahead with anticipation of what God will do.
Our hosts are gracious people who have an awesome retreat center, next door to the UM Church's Mission Camp. We have been at the Camp before for ministry events.

We saw Pastor John Manalo this morning. He was pastor of a very dynamic UMC when we first met him years ago. He is now serving as a DS. He, and Another DS, will be at our planning meeting this evening.

The trip over was uneventful, praise God, and we all arrived safely and were met by David and Josie Sablan, Pol and Evie, two other members of the healing team. We will have this afternoon with them prior to the team planning meeting tonight.

As I write this, you are probably getting ready to retire for the evening. We all had a great sleep last night - and didn't have to sit up while doing it!

Love to all of you.
In Christ, Larry, Audrey, Donna and Bob