Abba, Father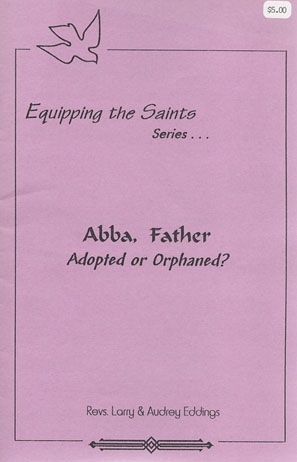 Adopted or Orphaned?
By Larry and Audrey Eddings

Excerpt
According to God's Word, you and I have been adopted into God's family. We are God's children by adoption and the Scriptures are our adoption papers.
Through God's act of love, shown through Jesus Christ and the work of God's Holy Spirit, we are drawn into an intimate loving relationship with God. It's God's Holy Spirit that enables us to call God Abba.
Cost: 5.00 each
TOTAL PURCHASE:
_____ items for a total cost of $_________.___
Shipping is included in price of each item.
Name:___________________________________________________
Address:_________________________________________________
City:___________________________ State:_____ Zip:________
Telephone:(_____) _____ - __________
WIND OF THE SPIRIT MINISTRIES P.O. Box 175, Silverdale, WA 98383
(360) 692-9813 Monday-Thursday mornings Pacific Time
Jean Seelow & Peg Brown

Rev.: 2 March 2011