Equipping the Saints Series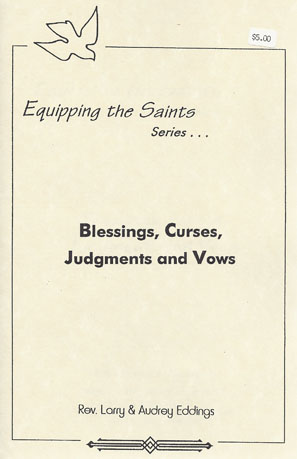 Blessings, Curses
Judgements and Vows
By Larry and Audrey Eddings

Excerpt
Human life is often affected by events or circumstances that find their root in unknown places. That is, there appears to be no rational or intellectual explanation as to why something happens or why something does not happen.
The forces that determine history appear to fall into two main categories - visible and invisible, the seen and the unseen. All of the material things of the world fall into the visible category. These are the things that can be seen, touched, and experienced, with our five senses of sight, touch, smell, taste and hearing. the visible world is, for all intents and purposes, reality, as we know it.
Cost: 5.00 each
TOTAL PURCHASE:
_____ items for a total cost of $_________.___
Shipping is included in price of each item.
Name:___________________________________________________
Address:_________________________________________________
City:___________________________ State:_____ Zip:________
Telephone:(_____) _____ - __________
WIND OF THE SPIRIT MINISTRIES P.O. Box 175, Silverdale, WA 98383
(360) 692-9813 Monday-Thursday mornings Pacific Time
Jean Seelow & Peg Brown

Rev.: 2 March 2011