Equipping the Saints Series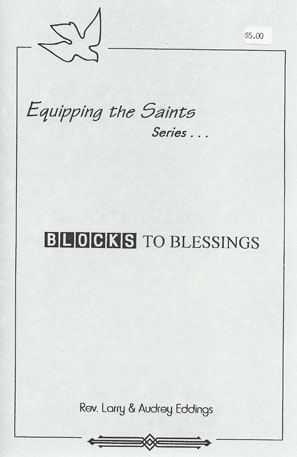 Blocks to Blessings
By Larry and Audrey Eddings

Excerpt
There are those who desire to have God's Holy Spirit released in their lives, or hear God speak, or need healing to happen, or finances to be improved or numerous other blessings that God has promised, and yet seem unable to sense that happening. Many have prayed numerous times, only to walk away feeling unworthy in some way because nothing had changed. Why is that so? We need to be aware of things which can block the release of God's Holy Spirit and all the other blessings.
One of those blocks is Unbelief. Scriptures indicate that if one is to be baptized in the Holy Spirit, to be immersed in God's divine and eternal love, to experience the infilling of God's own powerful presence, the pre-requisite is belief in Jesus Christ.
Cost: 5.00 each
TOTAL PURCHASE:
_____ items for a total cost of $_________.___
Shipping is included in price of each item.
Name:___________________________________________________
Address:_________________________________________________
City:___________________________ State:_____ Zip:________
Telephone:(_____) _____ - __________
WIND OF THE SPIRIT MINISTRIES P.O. Box 175, Silverdale, WA 98383
(360) 692-9813 Monday-Thursday mornings Pacific Time
Jean Seelow & Peg Brown

Rev.: 2 March 2011