Equipping the Saints Series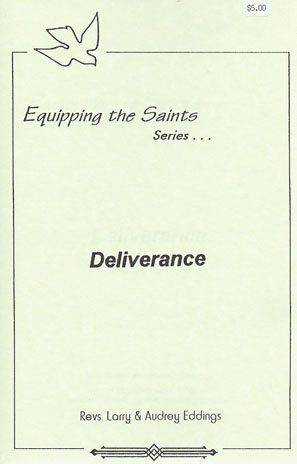 Deliverance
By Larry and Audrey Eddings

Excerpt
Fiona was a spiritualist or medium from South Africa. Spiritism has been the family religious practice for generations. They believe they were a bridge between the living and the dead. As a result, they believe the dead could give direction, comfort, and encouragement to the living. She was a sought after public speaker, but Fiona hated to talk to Christians because they were so "narrow minded".
The Christians felt there was only one way to God, through Jesus Christ. Her immediate response was, "But what about all the rest of the religions? Isn't it better to say "God is love" and you can get there any way you want?
Cost: 5.00 each
TOTAL PURCHASE:
_____ items for a total cost of $_________.___
Shipping is included in price of each item.
Name:___________________________________________________
Address:_________________________________________________
City:___________________________ State:_____ Zip:________
Telephone:(_____) _____ - __________
WIND OF THE SPIRIT MINISTRIES P.O. Box 175, Silverdale, WA 98383
(360) 692-9813 Monday-Thursday mornings Pacific Time
Jean Seelow & Peg Brown

Rev.: 2 March 2011