Equipping the Saints Series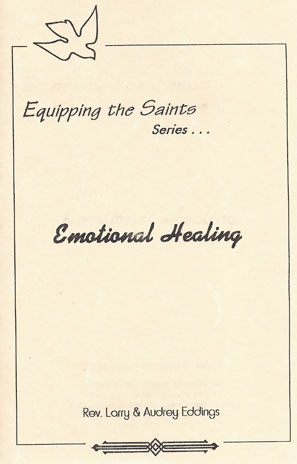 Emotional Healing
By Larry and Audrey Eddings

Excerpt
We live in a fallen world where trauma, hurt, sin, embarrassment, rejection, fear, accidents,or death are our constant companions. Satan is still trying to "steal, kill and destroy." There is no way we can travel through this life without consciously or unconsciously giving and receiving of hurts.
Whether the hurts come intentionally or unintentionally, the wound is the same; our emotions are affected and we respond either positively or negatively. It is how we respond to hurts and traumas, as well as our response to positive experiences that molds us into the people we are now. Our response is what determines our need for healing.
Cost: 5.00 each
TOTAL PURCHASE:
_____ items for a total cost of $_________.___
Shipping is included in price of each item.
Name:___________________________________________________
Address:_________________________________________________
City:___________________________ State:_____ Zip:________
Telephone:(_____) _____ - __________
WIND OF THE SPIRIT MINISTRIES P.O. Box 175, Silverdale, WA 98383
(360) 692-9813 Monday-Thursday mornings Pacific Time
Jean Seelow & Peg Brown

Rev.: 2 March 2011