Faith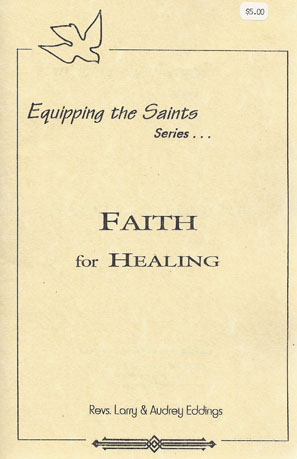 Faith for Healing
By Larry and Audrey Eddings

Excerpt
Faith is a vital part of our relationship with God. Scripture reminds us that
without faith it is impossible to please God, because anyone who comes to him must believe that he exists and that he rewards those who earnestly seek him.
[Hebrews 11:6]
In our christian walk we speak a lot about faith and the part it plays in our daily lives. We speak of "little faith," "much faith," or "if only I had your faith," or "my faith is just about worn out."
We often speak of faith without having clearly in mind an image of that about which we are seeking.
Cost: 5.00 each
TOTAL PURCHASE:
_____ items for a total cost of $_________.___
Shipping is included in price of each item.
Name:___________________________________________________
Address:_________________________________________________
City:___________________________ State:_____ Zip:________
Telephone:(_____) _____ - __________
WIND OF THE SPIRIT MINISTRIES P.O. Box 175, Silverdale, WA 98383
(360) 692-9813 Monday-Thursday mornings Pacific Time
Jean Seelow & Peg Brown

Rev.: 2 March 2011