Equipping the Saints Series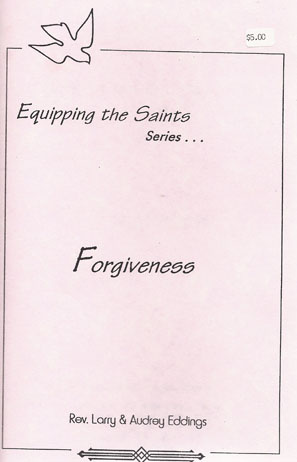 Forgiveness
By Larry and Audrey Eddings

Excerpt
Forgiveness is the major key to healing and wholeness in spirit, soul, body and relationships. It is that Word used by God to free humanity from its sinful, alienated, and estranged relationship with God. It is the Word which sets people free from bondage in which they find themselves because of an offense which has been committed against them or which they have committed against another.
Upward forgiveness opens the door to reconciliation and restoration of relationships between God and persons. Outward forgiveness accomplishes the goal of reconciliation between persons who have experienced alienation from each other. Inward forgiveness brings peace to those who harbor negative and destructive attitudes towards themselves.
Cost: 5.00 each
TOTAL PURCHASE:
_____ items for a total cost of $_________.___
Shipping is included in price of each item.
Name:___________________________________________________
Address:_________________________________________________
City:___________________________ State:_____ Zip:________
Telephone:(_____) _____ - __________
WIND OF THE SPIRIT MINISTRIES P.O. Box 175, Silverdale, WA 98383
(360) 692-9813 Monday-Thursday mornings Pacific Time
Jean Seelow & Peg Brown

Rev.: 2 March 2011