Equipping the Saints Series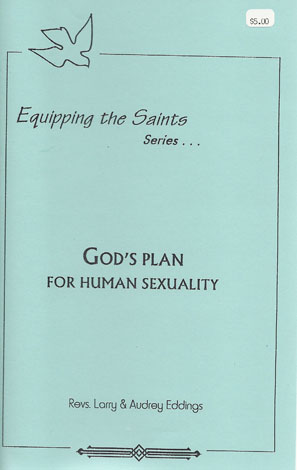 God's Plan For Human Sexuality
By Larry and Audrey Eddings

Excerpt
Three major Scriptural truths relative to human sexuality will be considered in this chapter. First, human sexuality is a gift from God and God has a plan for the right use of our sexuality. Second, wrong uses of our sexuality carries with it human suffering and divine retribution. Third, God provides healing and restoration for those who wrongfully use their gift of sexuality and desire to be restored to wholeness in their relationship with God, with other people and with themselves.
Cost: 5.00 each
TOTAL PURCHASE:
_____ items for a total cost of $_________.___
Shipping is included in price of each item.
Name:___________________________________________________
Address:_________________________________________________
City:___________________________ State:_____ Zip:________
Telephone:(_____) _____ - __________
WIND OF THE SPIRIT MINISTRIES P.O. Box 175, Silverdale, WA 98383
(360) 692-9813 Monday-Thursday mornings Pacific Time
Jean Seelow & Peg Brown

Rev.: 2 March 2011