Equipping the Saints Series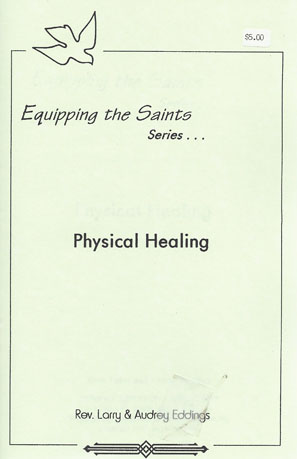 Physical Healing
By Larry and Audrey Eddings

Excerpt
During the course of Jesus' life here on earth he was engaged in a redemption ministry. He came to redeem humanity. That redemption is expressed in many ways.
Jesus' ministry involved two major thrusts: (1) he preached the Kingdom of God, the "good news" or God's love for humanity, and (2) he healed the sick.
Jesus brought healing to one's emotions and released them from spiritual powers which gripped life and held the mind captive.
Cost: 5.00 each
TOTAL PURCHASE:
_____ items for a total cost of $_________.___
Shipping is included in price of each item.
Name:___________________________________________________
Address:_________________________________________________
City:___________________________ State:_____ Zip:________
Telephone:(_____) _____ - __________
WIND OF THE SPIRIT MINISTRIES P.O. Box 175, Silverdale, WA 98383
(360) 692-9813 Monday-Thursday mornings Pacific Time
Jean Seelow & Peg Brown

Rev.: 2 March 2011