Equipping the Saints Series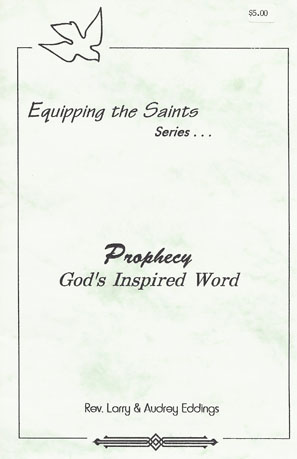 Prophecy God's Inspired Word
By Larry and Audrey Eddings

Excerpt
The gift of Prophecy is a manifestation of God's Holy Spirit. It is a message inspired by God, spoken by a person to edify the Church. The Hebrew word for "prophet", means one who is inspired by God. It is a person who "tells forth" the word of God.
The Prophetic office had an awesome aura around it for it laid a great responsibility upon the shoulder of the one called to it. Prophetic utterances were to be only those given by God, and carried grave consequences if they were not.
Cost: 5.00 each
TOTAL PURCHASE:
_____ items for a total cost of $_________.___
Shipping is included in price of each item.
Name:___________________________________________________
Address:_________________________________________________
City:___________________________ State:_____ Zip:________
Telephone:(_____) _____ - __________
WIND OF THE SPIRIT MINISTRIES P.O. Box 175, Silverdale, WA 98383
(360) 692-9813 Monday-Thursday mornings Pacific Time
Jean Seelow & Peg Brown

Rev.: 2 March 2011