Scripture Guidelines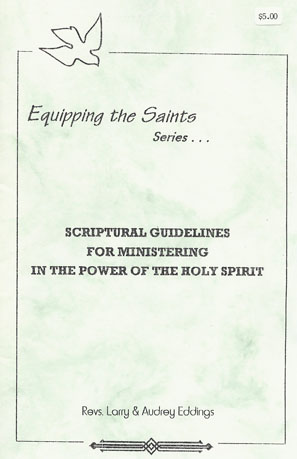 For Ministering in the
Power of the Holy Spirit
By Larry and Audrey Eddings

Excerpt
May the Holy Spirit empower our lives and ministries as with the early disciples of the Church. May the Lord also confirm the words we speak with signs and wonders.
As the Holy Spirit of God works the work of God in and through us, may the blind receive sight, the lame walk, those who have leprosy be cured, the deaf hear, the dead be raised up and good news be preached to the poor so that the Kingdom of God may come on earth as it is in heaven.
Cost: 5.00 each
TOTAL PURCHASE:
_____ items for a total cost of $_________.___
Shipping is included in price of each item.
Name:___________________________________________________
Address:_________________________________________________
City:___________________________ State:_____ Zip:________
Telephone:(_____) _____ - __________
WIND OF THE SPIRIT MINISTRIES P.O. Box 175, Silverdale, WA 98383
(360) 692-9813 Monday-Thursday mornings Pacific Time
Jean Seelow & Peg Brown

Rev.: 2 March 2011