Equipping the Saints Series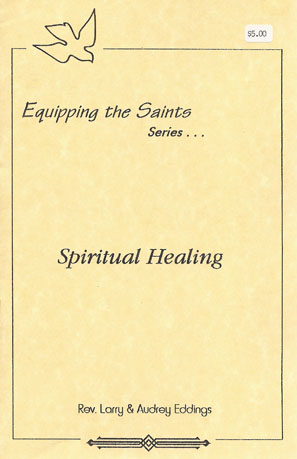 Spiritual Healing
By Larry and Audrey Eddings

Excerpt
Jesus came as
REDEEMER
to set people free from the powers of darkness, from the consequences of their fall and sin, to reconcile them to their Creator, and, as Peter said "
transfer us into the Kingdom of Light."
Jesus came as SAVIOR to save people from death to life. His very name "Jesus" means "God is salvation," carrying with it the meaning that God is our Savior. Savior also means "healer." God is our Healer.
Jesus' Name carries with it not only the meaning of His mission, but also the authority with which to carry out that mission. Jesus' disciples healed "in His Name" they cast out demons "in His Name," they baptized "in His Name" with total authority of that Name.
Cost: 5.00 each
TOTAL PURCHASE:
_____ items for a total cost of $_________.___
Shipping is included in price of each item.
Name:___________________________________________________
Address:_________________________________________________
City:___________________________ State:_____ Zip:________
Telephone:(_____) _____ - __________
WIND OF THE SPIRIT MINISTRIES P.O. Box 175, Silverdale, WA 98383
(360) 692-9813 Monday-Thursday mornings Pacific Time
Jean Seelow & Peg Brown

Rev.: 2 March 2011