Equipping the Saints Series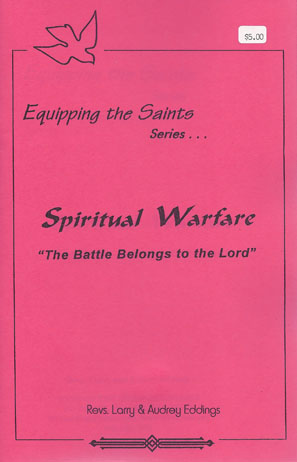 Spiritual Warfare
"The Battle Belongs to the Lord"
By Larry and Audrey Eddings

Excerpt
Throughout his adult life and ministry, Jesus was engaged in spiritual warfare. When God came to earth in Jesus Christ, the Kingdom of Heaven invaded the Kingdom of Satan. When people came to believe in Jesus as the Son of God and Savior of humanity, they were brought out of the Kingdom of Darkness into the Kingdom of Light - out of ignorance into the understanding, our of sin into salvation, out of hell into heaven.
Cost: 5.00 each
TOTAL PURCHASE:
_____ items for a total cost of $_________.___
Shipping is included in price of each item.
Name:___________________________________________________
Address:_________________________________________________
City:___________________________ State:_____ Zip:________
Telephone:(_____) _____ - __________
WIND OF THE SPIRIT MINISTRIES P.O. Box 175, Silverdale, WA 98383
(360) 692-9813 Monday-Thursday mornings Pacific Time
Jean Seelow & Peg Brown

Rev.: 2 March 2011