Equipping the Saints Series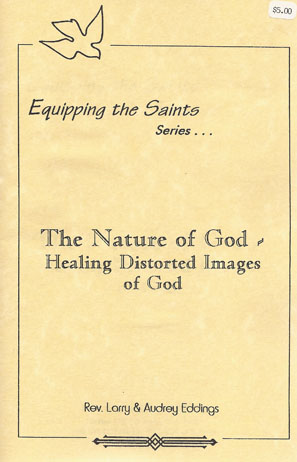 The Nature of God
Healing Distorted Images of God
By Larry and Audrey Eddings

Excerpt
Having said that God is for us, we acknowledge that we live in a world where sin, sickness, disease, suffering and death are realities with which we are confronted every day. In light of these realities, our view of the nature of God is crucial to a positive and effective healing ministry.
Cost: 5.00 each
TOTAL PURCHASE:
_____ items for a total cost of $_________.___
Shipping is included in price of each item.
Name:___________________________________________________
Address:_________________________________________________
City:___________________________ State:_____ Zip:________
Telephone:(_____) _____ - __________
WIND OF THE SPIRIT MINISTRIES P.O. Box 175, Silverdale, WA 98383
(360) 692-9813 Monday-Thursday mornings Pacific Time
Jean Seelow & Peg Brown

Rev.: 2 March 2011