Equipping the Saints Series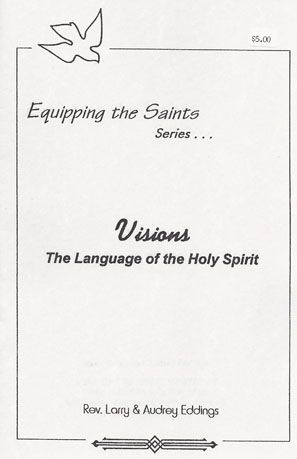 Visions
The Language of the Holy Spirit
By Larry and Audrey Eddings

Excerpt
In our human nature we tend to stick to the old adage, "seeing is believing." Yet scripture tells us to believe it first and then see it happen. This is completely opposite of what the wold tells us. If we can begin to "see with the eyes of our spirit", in visions, images and dreams, it will not only strengthen our faith, but heal our whole beginning.
God does speak to us in visions. But we must learn to recognize it, judge it and then understand it's language. With the wrong vision or no vision, we will be mislead or have no direction. With God's vision we have understanding and direction.
Cost: 5.00 each
TOTAL PURCHASE:
_____ items for a total cost of $_________.___
Shipping is included in price of each item.
Name:___________________________________________________
Address:_________________________________________________
City:___________________________ State:_____ Zip:________
Telephone:(_____) _____ - __________
WIND OF THE SPIRIT MINISTRIES P.O. Box 175, Silverdale, WA 98383
(360) 692-9813 Monday-Thursday mornings Pacific Time
Jean Seelow & Peg Brown

Rev.: 2 March 2011