Equipping the Saints Series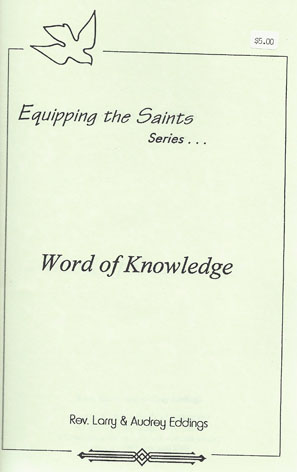 Word of Knowledge
By Larry and Audrey Eddings

Excerpt
Not too many years ago, that's where I found myself. I was totally ignorant of the spiritual gifts, let alone how to use them for Ministry in the Church Body. I had worked hard in the church, using natural talent God had given me, assuming they were the gifts to be used for ministry.
The day came when I became tired and frustrated from not seeing results. I could teach classes with interesting material and crafts, put on dramas with flair, lead programs that people enjoyed; but no ones life was changed. No one asked Jesus to become their Lord and Savior, nor was anyone healed, physically or emotionally. There was no visible, lasting results from all the work I had accomplished.
Now I realize that natural talent can function apart from God's help, while the spiritual gifts can no function apart from the empowering presence of God's Holy Spirit.

Cost: 5.00 each
TOTAL PURCHASE:
_____ items for a total cost of $_________.___
Shipping is included in price of each item.
Name:___________________________________________________
Address:_________________________________________________
City:___________________________ State:_____ Zip:________
Telephone:(_____) _____ - __________
WIND OF THE SPIRIT MINISTRIES P.O. Box 175, Silverdale, WA 98383
(360) 692-9813 Monday-Thursday mornings Pacific Time
Jean Seelow & Peg Brown

Rev.: 2 March 2011