Bringing Your Earthly Affairs into Order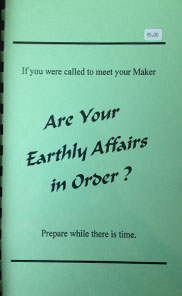 Are Your Earthly Affairs in Order
By Consumer Resource Center

Introduction
Life may not end at a specific time.
It can end suddenly through accident, natural disaster, disease, terrorism or war. Or it can come slowly at the end of a life lived fully.
Whatever the timing your "earthly affairs" can be in order. Why did we in the Grief Ministry of Woodinville Community UMC compile these suggested guidelines? We have found the business and legal issues surrounding a life ending can become a heavy burden for those left behind if there is no preperation. An extra burden to those already overwhelmed with grief.
Your preparation can be your final gift of love and caring to your loved ones.
Cost: 5.00 each
TOTAL PURCHASE:
_____ items for a total cost of $_________.___
Shipping is included in price of each item.
Name:___________________________________________________
Address:_________________________________________________
City:___________________________ State:_____ Zip:________
Telephone:(_____) _____ - __________
WIND OF THE SPIRIT MINISTRIES P.O. Box 175, Silverdale, WA 98383
(360) 692-9813 Monday-Thursday mornings Pacific Time
Jean Seelow & Peg Brown

Rev.: 2 March 2011