Is Your House in Order?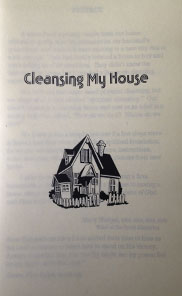 Cleaning My House
By Mary Weigel
Introduction
See your house and possessions with spiritual eyes.
The average Christian family may not even be aware of the necessity to spiritually clean their house in order to experience the peaceful presence of God. We must not be ignorant to the subtle ways Satan trespasses and attempts to steal God's blessings from us right where we live.
"It is from freedom that Christ has set us free. Stand firm, then and do not let yourselves be burdened again by a yoke of slavery." Galatians 5:1
Armed by the Word of God, the direction of the Holy Spirit we stand firm on the foundation laid by our Lord Jesus Christ. We Win!!
Cost: 5.00 each
TOTAL PURCHASE:
_____ items for a total cost of $_________.___
Shipping is included in price of each item.
Name:___________________________________________________
Address:_________________________________________________
City:___________________________ State:_____ Zip:________
Telephone:(_____) _____ - __________
WIND OF THE SPIRIT MINISTRIES P.O. Box 175, Silverdale, WA 98383
(360) 692-9813 Monday-Thursday mornings Pacific Time
Jean Seelow & Peg Brown

Rev.: 2 March 2011