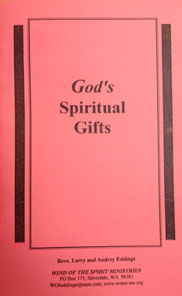 God's Spiritual Gifts
By Rev. Larry and Audrey Eddings
Introduction
As Christians, we believe, among other things, that God's plan for the redemption of the world is JESUS. We believe also that we, as the church, have been commissioned by Jesus to go into all the world with that message. We also believe that in order to fulfill that Commission, Jesus empowers us with Holy Spirit and provides supernatural gifts to carry out the work which we are called to do.
It is important to differentiate between the Gift of the Holy Spirit and the Gifts of the Holy Spirit. The Gift is the Holy Spirit Himself; His presence in our lives. The Gifts is the Holy Spirit manifestations, or spiritual tools, given by the Holy Spirit, necessary for the work which He has called us to do.

Cost: 5.00 each
TOTAL PURCHASE:
_____ items for a total cost of $_________.___
Shipping is included in price of each item.
Name:___________________________________________________
Address:_________________________________________________
City:___________________________ State:_____ Zip:________
Telephone:(_____) _____ - __________
WIND OF THE SPIRIT MINISTRIES P.O. Box 175, Silverdale, WA 98383
(360) 692-9813 Monday-Thursday mornings Pacific Time
Jean Seelow & Peg Brown

Rev.: 2 March 2011