Be Healed in the Name of Jesus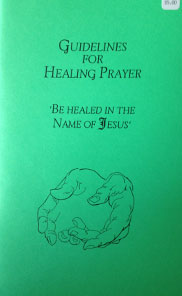 Guidelines for Healing Prayer
By Rev. Larry Eddings

Introduction
First and foremost is the need to know God is our healer and then listen. Listen to the person share their need and listen to God direct how you are to pray.
These guidelines are merely handles to help you get started. A method will not heal the sick, only God does the healing. Each person and each situation is unique. Only the Lord knows that person and their need intimately, so always depend upon the Lord to give individual directions for each one. Opportunities to join with God as He reaches out to touch the people are all around us. As we step out believing that God is faithful to His Word, we will have the joy and privilege of being vessels through which healing may happen.
Cost: 5.00 each
TOTAL PURCHASE:
_____ items for a total cost of $_________.___
Shipping is included in price of each item.
Name:___________________________________________________
Address:_________________________________________________
City:___________________________ State:_____ Zip:________
Telephone:(_____) _____ - __________
WIND OF THE SPIRIT MINISTRIES P.O. Box 175, Silverdale, WA 98383
(360) 692-9813 Monday-Thursday mornings Pacific Time
Jean Seelow & Peg Brown

Rev.: 2 March 2011