Healing for Sexual Abuse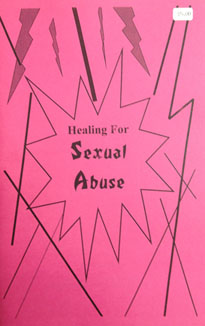 Healing for Sexual Abuse
By Rev. Larry and Audrey Eddings
Introduction
With God there is HOPE....
that fragmented lives can be restored.
that hearts can be made whole again.
We can know healing is happening when....
we begin to enjoy, rather than endure, life
we begin to love ourselves and know that we are okay.
we can look back on our hurtful experiences and see how Jesus has transformed even that horror.
we become aware that we are no longer prisoners of old defensive habit patterns.
we begin to feel grateful for everything, knowing that God can bring good out of everything!

Cost: 5.00 each
TOTAL PURCHASE:
_____ items for a total cost of $_________.___
Shipping is included in price of each item.
Name:___________________________________________________
Address:_________________________________________________
City:___________________________ State:_____ Zip:________
Telephone:(_____) _____ - __________
WIND OF THE SPIRIT MINISTRIES P.O. Box 175, Silverdale, WA 98383
(360) 692-9813 Monday-Thursday mornings Pacific Time
Jean Seelow & Peg Brown

Rev.: 2 March 2011