Human Life has Eternal Value and Worth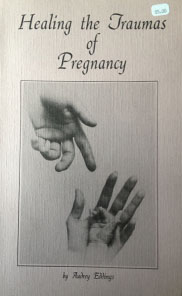 Healing the Traumas of Pregnancy
By Audrey Eddings

Introduction
The purpose of this book is to aid in ministering to those who have experienced traumas during pregnancy: abortion, miscarriage, still-births, or others.
Human life has eternal value worth. It is God's gift to creation. God breathed into our nostrils the breath of life and we became living beings. (Genesis 2:7)
While on the surface those involved may seem to be handling it well, there may be something going on deep inside that person which needs special love and prayer. Appearances are often deceiving. Guilt and grief are sometimes buried deep within the human spirit and emotions.
Cost: 5.00 each
TOTAL PURCHASE:
_____ items for a total cost of $_________.___
Shipping is included in price of each item.
Name:___________________________________________________
Address:_________________________________________________
City:___________________________ State:_____ Zip:________
Telephone:(_____) _____ - __________
WIND OF THE SPIRIT MINISTRIES P.O. Box 175, Silverdale, WA 98383
(360) 692-9813 Monday-Thursday mornings Pacific Time
Jean Seelow & Peg Brown

Rev.: 2 March 2011