I, even I, am the one who comforts you.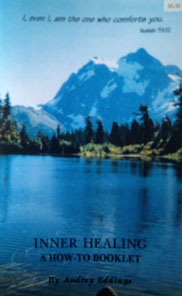 Inner Healing: A How To Booklet
By Audrey Eddings

Introduction
It is not possible to travel through this life without experiencing hurt or trauma. Either intentionally or unintentionally we are victims of trauma. While the conscious mind may have forgotten the hurt, the subconscious does not forget. The memory may have been pushed down, only to rise up at a later time due to some word or action, some sight or smell that is similar to the original trauma. Time does not heal wounds. A past pain can be relived as vividly as if it had just happened, and our response will be much the same.
Inner Healing is one way God has provided for our fears, our hurts and our traumas to be healed so that we may be whole in body, mind and spirit.
Cost: 5.00 each
TOTAL PURCHASE:
_____ items for a total cost of $_________.___
Shipping is included in price of each item.
Name:___________________________________________________
Address:_________________________________________________
City:___________________________ State:_____ Zip:________
Telephone:(_____) _____ - __________
WIND OF THE SPIRIT MINISTRIES P.O. Box 175, Silverdale, WA 98383
(360) 692-9813 Monday-Thursday mornings Pacific Time
Jean Seelow & Peg Brown

Rev.: 2 March 2011