A Spiritual Journey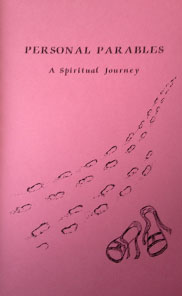 Personal Parables
By Audrey Eddings
Introduction
It is only eighteen inches from head to heart, but for most of us it might as well be a mile!
How often do we read all the scriptures and never let them get beyond the intellect? But our heart's desire is to enter into that intimacy of His presence.
In Personal Parables it has been my joy to put on their sandals and walk the dusty road with different individuals; sometimes as the main characters, other times as an observer from the crowd.
`Feel` with me the stories of old, as they come alive in your own heart and soul. Reach out and touch the hem of His garment.
Cost: 5.00 each
TOTAL PURCHASE:
_____ items for a total cost of $_________.___
Shipping is included in price of each item.
Name:___________________________________________________
Address:_________________________________________________
City:___________________________ State:_____ Zip:________
Telephone:(_____) _____ - __________
WIND OF THE SPIRIT MINISTRIES P.O. Box 175, Silverdale, WA 98383
(360) 692-9813 Monday-Thursday mornings Pacific Time
Jean Seelow & Peg Brown

Rev.: 2 March 2011