He will bless the fruit of your womb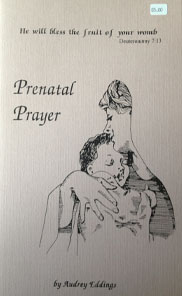 Prenatal Prayer
By Audrey Eddings

Introduction
This book guides one through the stages of the child being wondrously formed in its mother's womb. Being touched by its Mother and Father's voices in the tender care of prayer.
Cost: 5.00 each
TOTAL PURCHASE:
_____ items for a total cost of $_________.___
Shipping is included in price of each item.
Name:___________________________________________________
Address:_________________________________________________
City:___________________________ State:_____ Zip:________
Telephone:(_____) _____ - __________
WIND OF THE SPIRIT MINISTRIES P.O. Box 175, Silverdale, WA 98383
(360) 692-9813 Monday-Thursday mornings Pacific Time
Jean Seelow & Peg Brown

Rev.: 2 March 2011