Knowing God's Will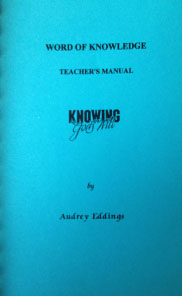 Word of Knowledge
By Audrey Eddings

Introduction
A practical understanding of how God's Holy Spirit in us, helps us to know and use knowledge that is only available through God. One will realize that it is necessary to seek God's direction in all things, and then listen for the answer. God will speak to individuals in many ways.
Cost: 5.00 each
TOTAL PURCHASE:
_____ items for a total cost of $_________.___
Shipping is included in price of each item.
Name:___________________________________________________
Address:_________________________________________________
City:___________________________ State:_____ Zip:________
Telephone:(_____) _____ - __________
WIND OF THE SPIRIT MINISTRIES P.O. Box 175, Silverdale, WA 98383
(360) 692-9813 Monday-Thursday mornings Pacific Time
Jean Seelow & Peg Brown

Rev.: 2 March 2011