The Journey Within Series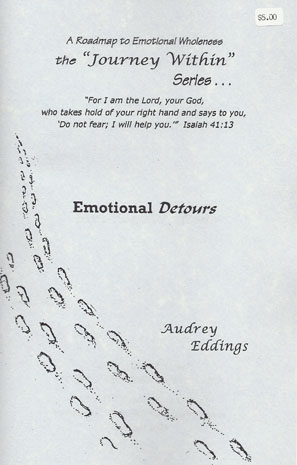 Emotional Detours
By Audrey Eddings

Excerpt
A commonly held interpretation of the Song of Solomon by some Jews is that the bridegroom is God and the Shulammite woman is the Jewish nation. Christians interpret the bridegroom as the Christ and the Shulammite woman as the church. While others see the Song of Solomon as the relationship between a husband and a wife.
At the time Song of Solomon was written, Solomon has only 140 wives out of the eventual 1000 that he would marry. Many of his marriages were for political alliances. His attitude towards sex was all about the beauty of women, which he extolled without measure, but it was totally without emotional bonding.
Cost: 5.00 each
TOTAL PURCHASE:
_____ items for a total cost of $_________.___
Shipping is included in price of each item.
Name:___________________________________________________
Address:_________________________________________________
City:___________________________ State:_____ Zip:________
Telephone:(_____) _____ - __________
WIND OF THE SPIRIT MINISTRIES P.O. Box 175, Silverdale, WA 98383
(360) 692-9813 Monday-Thursday mornings Pacific Time
Jean Seelow & Peg Brown

Rev.: 2 March 2011