The Journey Within Series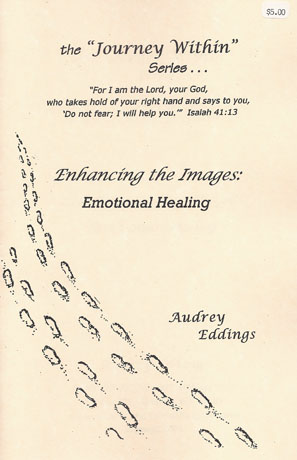 Enhancing the Images:
Emotional Healing
By Audrey Eddings

Excerpt
"Don't forget the camera!" is the usual last minute reminder when preparing to leave on a journey. The reason being, of course, that there will be scenery and persons along the way which images we will want to capture and keep.
Virtually everyone has a mental picture or image of who we are, what we look like, what our worth is and where we stand in the great expanse of the universe.
Was that image created by God? Or, more likely, has it been created by the circumstances and environment in which we have grown up?
Cost: 5.00 each
TOTAL PURCHASE:
_____ items for a total cost of $_________.___
Shipping is included in price of each item.
Name:___________________________________________________
Address:_________________________________________________
City:___________________________ State:_____ Zip:________
Telephone:(_____) _____ - __________
WIND OF THE SPIRIT MINISTRIES P.O. Box 175, Silverdale, WA 98383
(360) 692-9813 Monday-Thursday mornings Pacific Time
Jean Seelow & Peg Brown

Rev.: 2 March 2011