The Journey Within Series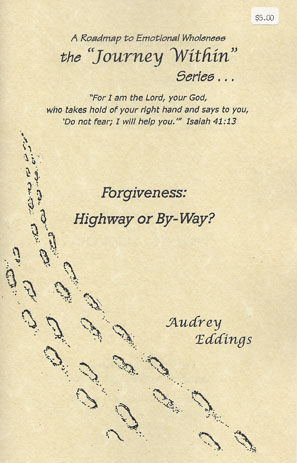 Forgiveness:
Highway or By-Way?
By Audrey Eddings

Excerpt
It is true with any journey we take there is always the choice of roads to take. Do we want to take the shortest route to our destination or the longer, and sometimes more difficult route? Do we choose to go by the major highways and freeways or by the slower two-lane byway?
So it is with our journey through this life. What is our final destination and how do we choose to get there? In contrast to our choice of roads for earthly travel, do we plan on taking the "straight and narrow way" that leads to heaven or the "wide and broad way" that leads to death and hell?
We have a choice to make, as did our foreparents Adam and Eve.
Cost: 5.00 each
TOTAL PURCHASE:
_____ items for a total cost of $_________.___
Shipping is included in price of each item.
Name:___________________________________________________
Address:_________________________________________________
City:___________________________ State:_____ Zip:________
Telephone:(_____) _____ - __________
WIND OF THE SPIRIT MINISTRIES P.O. Box 175, Silverdale, WA 98383
(360) 692-9813 Monday-Thursday mornings Pacific Time
Jean Seelow & Peg Brown

Rev.: 2 March 2011