The Journey Within Series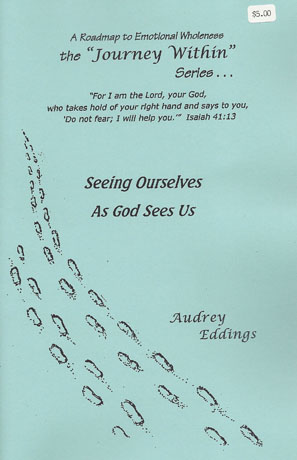 Seeing Ourselves
As God Sees Us
By Audrey Eddings

Excerpt
How many of you have pictures in your wallet or on your cell phone? If those pictures are of special people, then you have shown them to everyone who will look.
How we see ourselves will affect all our relationships. It affects our ability to respond to and receive God's love and blessings. Whether or not we can love and be loved by others. Whether we can love and be comfortable about ourselves. How we perform in our jobs, in our homes, our marriage, to our children and to our friends. there is nothing is does not affect.
Cost: 5.00 each
TOTAL PURCHASE:
_____ items for a total cost of $_________.___
Shipping is included in price of each item.
Name:___________________________________________________
Address:_________________________________________________
City:___________________________ State:_____ Zip:________
Telephone:(_____) _____ - __________
WIND OF THE SPIRIT MINISTRIES P.O. Box 175, Silverdale, WA 98383
(360) 692-9813 Monday-Thursday mornings Pacific Time
Jean Seelow & Peg Brown

Rev.: 2 March 2011