The Journey Within Series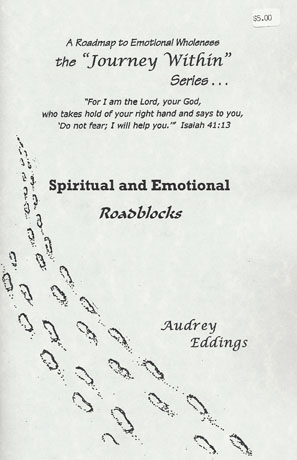 Spiritual and Emotional
Emotional Healing
By Audrey Eddings

Excerpt
A traveler on a road in ancient Greece stopped to ask directions from a man sitting on the side of the road. "How do I get to Athens?" the traveler asked. To which, Socrates, the man sitting on the side of the road, replied, "Just make every step you take go in that direction."
As we began this journey within, on the road to emotional healing and wholeness, we took time to consider the destination towards which we aimed. Where did we plan to go? Was it our desire to be in a more peaceful place? Did we desire to experience a less confused mind and more stable thought life? Was it our desire to experience better relationships with those around us? Was our desired destination a closer and more intimate walk with God?
Cost: 5.00 each
TOTAL PURCHASE:
_____ items for a total cost of $_________.___
Shipping is included in price of each item.
Name:___________________________________________________
Address:_________________________________________________
City:___________________________ State:_____ Zip:________
Telephone:(_____) _____ - __________
WIND OF THE SPIRIT MINISTRIES P.O. Box 175, Silverdale, WA 98383
(360) 692-9813 Monday-Thursday mornings Pacific Time
Jean Seelow & Peg Brown

Rev.: 2 March 2011