The Journey Within Series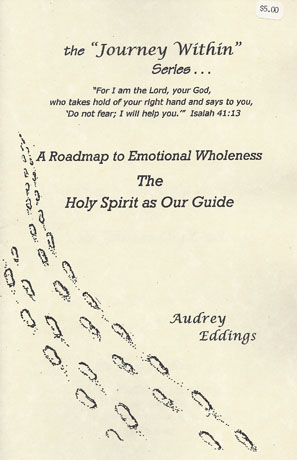 A Road-map to Emotional Wholeness
The Holy Spirit As Our Guide
By Audrey Eddings

Excerpt
During the next few days we are going on a journey. It is a journey that will take us into the inner most recesses of our life experiences. This journey will bring us to places where we celebrated with abandon, where we encountered times of joy as well as pain, victory as well as defeat. The journey will bring us face to face with those times when we were traumatized by difficult experiences as well as times when we knew we were enabled to overcome and move on.
Cost: 5.00 each
TOTAL PURCHASE:
_____ items for a total cost of $_________.___
Shipping is included in price of each item.
Name:___________________________________________________
Address:_________________________________________________
City:___________________________ State:_____ Zip:________
Telephone:(_____) _____ - __________
WIND OF THE SPIRIT MINISTRIES P.O. Box 175, Silverdale, WA 98383
(360) 692-9813 Monday-Thursday mornings Pacific Time
Jean Seelow & Peg Brown

Rev.: 2 March 2011