The Journey Within Series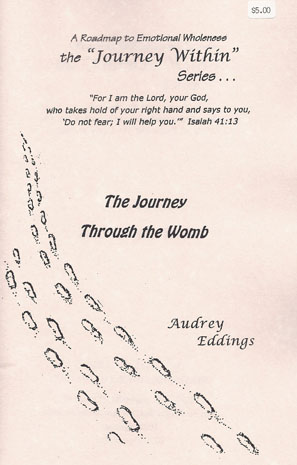 The Journey
Through the Womb
By Audrey Eddings

Excerpt
A Journey through the womb enables us to understand the miraculous as well as the mysterious way in which God has provided for life on Earth. It also reveals the many ways and places where traumas may develop that impact the life of that child.
One of the primary purposes of the male/female, husband/wife relationship is that of procreation. In this process and in the development of the fetus in the womb of the mother, traumas may occur that were not part of God's or plan.
Cost: 5.00 each
TOTAL PURCHASE:
_____ items for a total cost of $_________.___
Shipping is included in price of each item.
Name:___________________________________________________
Address:_________________________________________________
City:___________________________ State:_____ Zip:________
Telephone:(_____) _____ - __________
WIND OF THE SPIRIT MINISTRIES P.O. Box 175, Silverdale, WA 98383
(360) 692-9813 Monday-Thursday mornings Pacific Time
Jean Seelow & Peg Brown

Rev.: 2 March 2011