The Journey Within Series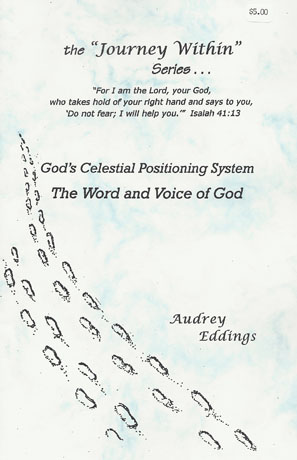 God's Celestial Positioning System
The Word and Voice of God
By Audrey Eddings

Excerpt
A colleague and I were attending conference at which we shared a ride from the motel to the conference center. Each day as we began the half-hour trip he put in the address of the conference center on the Global Positioning System [GPS] in the rental car. As we began the journey toward the center a recorded voice in the system would give us directions even as they were illustrated on the screen. We had only to follow the audible voice and visual street markings to make it to our destination.
God has a Celestial Positioning System. The Word of God, the Bible - with the voice of the Holy Spirit, provides the means by which God gives directions for us to travel out of darkness into light; out of ignorance into understanding; out of "lostness" into "foundness;" our of hell into heaven.
Cost: 5.00 each
TOTAL PURCHASE:
_____ items for a total cost of $_________.___
Shipping is included in price of each item.
Name:___________________________________________________
Address:_________________________________________________
City:___________________________ State:_____ Zip:________
Telephone:(_____) _____ - __________
WIND OF THE SPIRIT MINISTRIES P.O. Box 175, Silverdale, WA 98383
(360) 692-9813 Monday-Thursday mornings Pacific Time
Jean Seelow & Peg Brown

Rev.: 2 March 2011